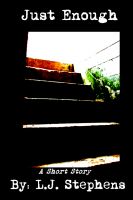 As you know, I am nearing the completion of my novel. (Which I have decided to rename, but don't know to what quite yet.) I still haven't decided whether I will self-publish or go the traditional route, as there are pros and cons to each. So, as an experiment I put a short story up on Amazon's Kindle store as well as on Smashwords, mainly to see what the process would be like and how difficult it would be. I will save my evaluation of the process for another post, but it was definitely a learning experience.
For one thing, there are various rules you have to abide by for each company and different formats that they will accept. Some of it is pretty straight forward, others are a bit more complicated, but overall it's not that hard once you wade through all of the information. I put it up for .99¢. I went back and forth whether to offer it for free or not, but in the end, because of some of the rules involved, I decided to put it up for the lowest price allowed. I really don't think that it's too much for just a short story, even though some entire novels are the same price or free, but I guess we will see.
Now, while I certainly would love it if you would all go purchase it and leave me a glowing review exalting my abilities as a wordsmith, I just wouldn't feel right about that. Not for the ten of you who actually read this blog. (Something I hope to change, which we will talk about in a moment.) So, if you would like to read
Just Enough,
let me know and I will send you a link where you can download it for free from Smashwords (Something that I can't do with Amazon and one of their definite cons) or I will just send it to you if you don't want to sign up with Smashwords. Although, if you read ebooks, it's a pretty good site. You can download in several different formats if you don't have a Kindle.
So, send me a message (ljstep749 at gmail)or go to
Amazon
or
Smashwords
.
[EDIT: Okay, on second thought, responding to too many emails will enable me to procrastinate and not get any work done, so I will just post the coupon code for Smashwords here. At checkout enter: TU43K
Reviews are very welcome.]
Now, on to the next topic: this blog. I eventually hope for this blog to grow to have a large following of rabid fans, but I would like to see it be a little more interactive. First of all, being a writer is a lonely job and I could use the interaction. Second, I realize that in order to build the number of blog followers that I envision, I will need to take this blog in a direction that will appeal to more people. And I would like your help. I know that all of you are very talented in different areas. I won't call you out by name, but I know that several of you are writers, poets, songwriters, photographers, and painters. If you would like to showcase any of your work, (Yes, you do.) or even do a guest post, send it to me. (I will post it anonymously, if your too shy.)
Okay, now that we have all of that to think about, I will leave you to get back to work. As always, if you have any comments, criticisms, questions, complaints or ideas, I would love to hear them. Seriously.